Galaxy S III build quality woes continue, users report cracked framing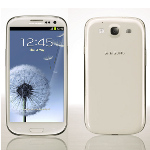 The Galaxy S III certainly isn't Samsung's strongest phone yet, as we've first heard about the manufacturer getting rid of over 600,000 faulty blue back covers, followed by a number of users discovering small cracks around the camera area of the white variant. Now, however, another weak spot of the phone has been found, with many users reporting cracks on the plastic framing of their devices.
Apparently, cracks have been mostly found on the sides of the phone, or at the bottom. While every mobile device may eventually suffer physically from its interaction with the surrounding world, the trouble is that most of the affected users claim that these cracks aren't the result of careless usage. Word is that Samsung is investigating the issue and will repair the damaged units (as it should), but this hasn't been officially confirmed yet.
Although the type of plastic that Samsung has used in the Galaxy S III is light and feels fine to the touch, we've noted on multiple occasions that the manufacturer tends to use some very thin and flimsy pieces of plastic for the casing of its phones. We'll wait and see how the issue develops, and hope that Samsung will take the necessary actions to remedy the situation. [phonearena]
Back to posts
---